My Keepsakes are more than just an ornament because
they create everlasting memories for all who receive them!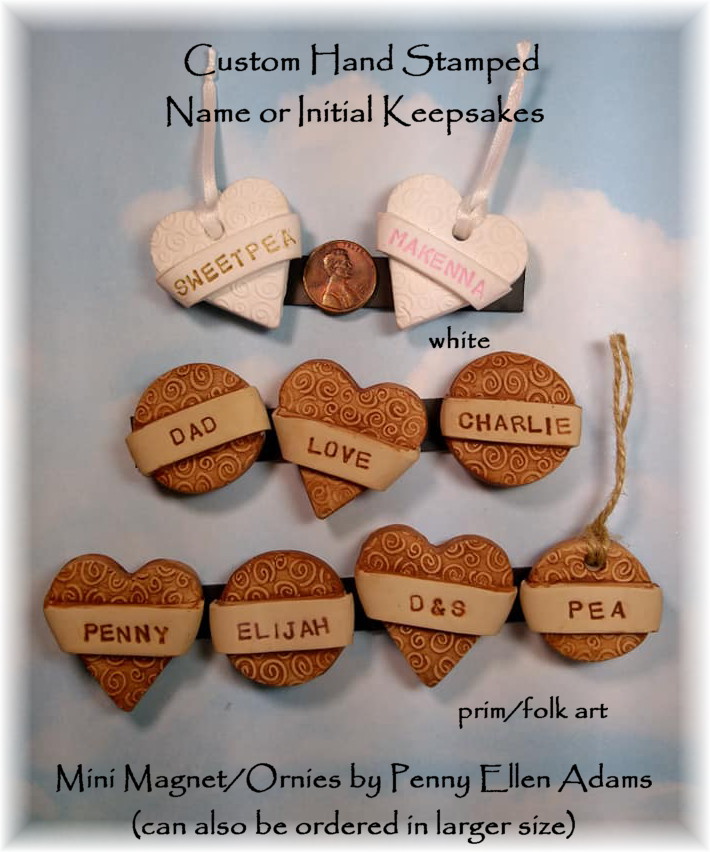 These minis may be only 1" in tall, but they are SuPeR strong!
I use neodymium [grade n42 magnets that are extremely strong!

Neodymium magnets are a member of the Rare Earth magnet family
and are the most powerful permanent magnets in the world. They are also
referred to as NdFeB magnets, or NIB, because they are composed mainly of
Neodymium (Nd), Iron (Fe) and Boron (B). They are a relatively new invention and
have only recently become affordable for everyday use.

Custom name up to 7 hand stamped alphabet letters.

Order as an ornament to make a great gift tag to dress up a package!

Mini Magnet or Ornies
(approx. 1")
$10.00 ea.
Ornament Size
$15.00 ea.
(approx. 2")

personalized gifts from baby shower to
bereavement and all of life in-between!
*** not available in a shop near you ***

To place an order contact me at:
usa.sweetpea@gmail.com
and let me know what you would like to purchase.
I will create an invoice for you via PayPal and email it to you.
If you DO NOT have a PayPal account, PayPal will give
you the option to pay with your credit card.



click here to return to my home page