Hand-Sculpted Little Sweetpea Angel Keepsakes
the most treasured gift of all
*** *** *** *** ***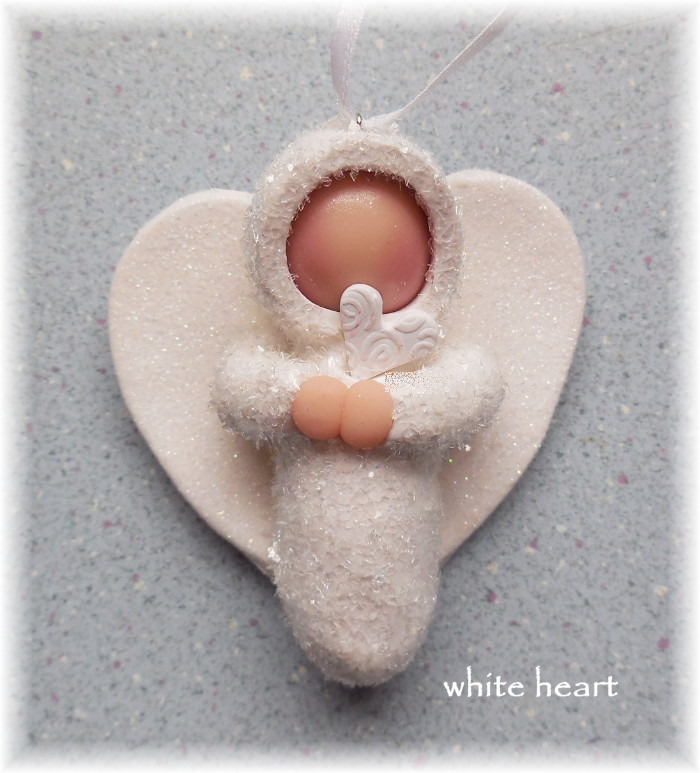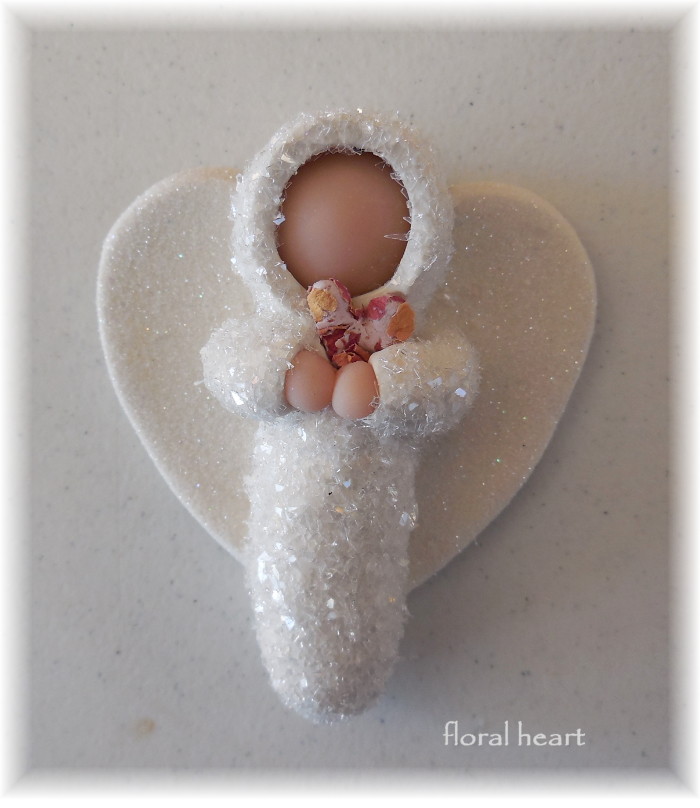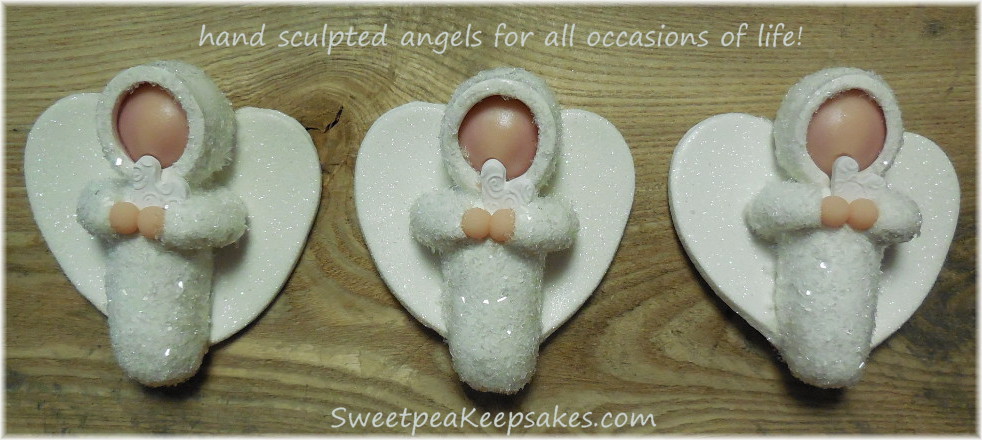 All of my Angels are totally handcrafted with lots of love and care, therefore,
every angel will be slightly different in appearance. I put hours of work into each
one so they are quality keepsakes to be treasured from generation to generation.

The lettering is aligned by eye. They are stamped and stained
individually by hand. This is not an exact process, therefore, the
inexactness is part of what lends originality to my work, as opposed to
the cookie-cutter look of machine made pieces that are mass produced.

Great gift for first ornament and baby shower
(if you don't know the baby's name yet)

Thoughtful gifts for baby dedications, baptisms,
newborns and infants, children or adults as well.

Cherished Memorial Keepsakes for miscarriage & loss of other loved ones.

Although I use the same technique on every ornament, please keep in mind that each one is
individually handmade and will be a little different from the keepsakes you see pictured.
After they are cured, I sprinkled the bunting with "diamond dust" to make it twinkle like stars.
The front banner can be personalized with a first or last name {or initials}.
The back plate can be personalized with a name and/or date.

Floral Heart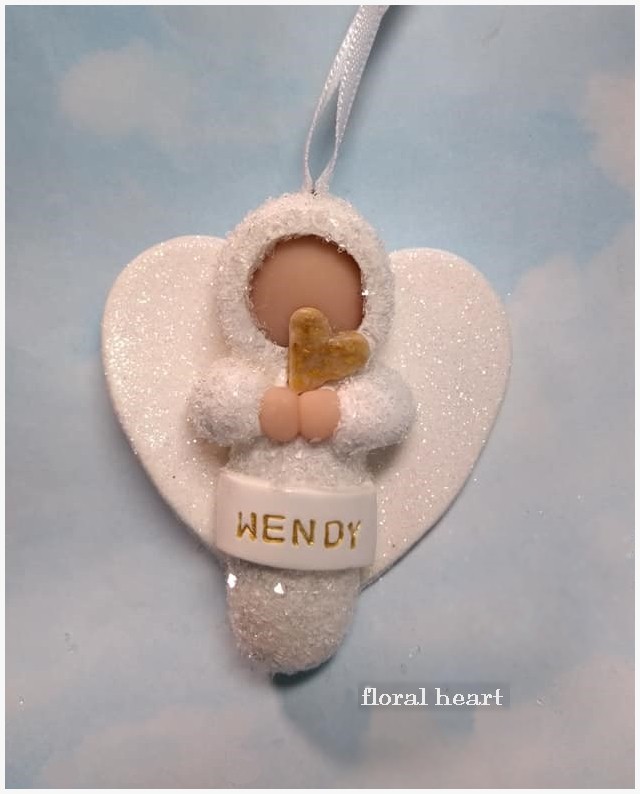 Dried flowers can be embedded in the heart to commemorate any
special occasion or it will make a very thoughtful memorial keepsake.
I will use your fresh flowers or flowers you have saved for years. I can
purchase flowers from a local floral shop and dry them for your keepsake.
I will embed dirt or sand from a destintation wedding, vacation,
sporting events or any other place that has a special meaning.

Repurposed Wood Wall Art Angels
because every piece of wood is upcycled, each individual
piece of wood will be a different texture and color.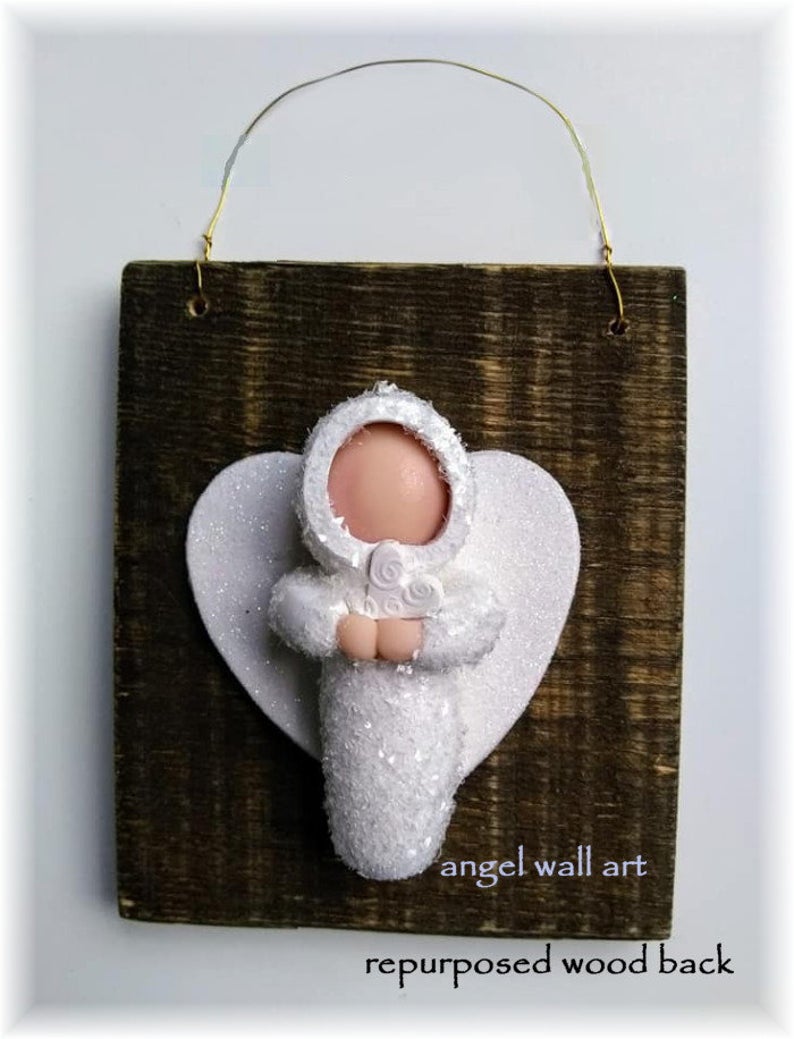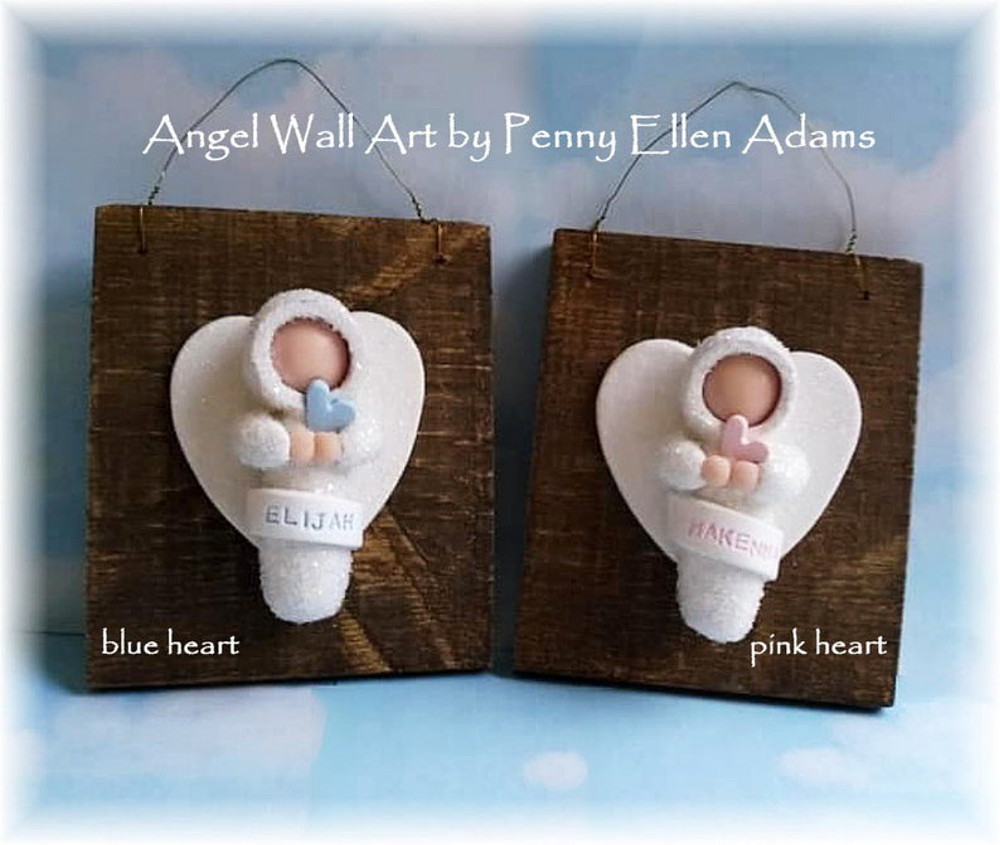 *** *** *** *** ***
personalized, quality gifts from expectant mother to
bereavement and all of life in-between!
*** not found in a shop near you ***
*** *** ***
Please Note:
These Keepsakes take three weeks
to create after your order is placed
-------------------------------------------------
Little Sweetpea Angel Keepsake Ornaments:
* pink, blue or gold lettering ~ $45.00
[front banner or backplate]
* floral heart ~ $50.00
Repurposed Wood Little Sweetpea Angel Wall Art:
* pink, blue or gold lettering ~ $60.00
[front banner or backplate]
* sand, dirt, or dried flower heart ~ $65.00
-------------------------------------------------
free personalization on front banner or back plate
free shipping in the usa
*** *** ***
To place an order please contact me at:
usa.sweetpea@gmail.com
and let me know what you would like to purchase.
I will create an invoice for you via PayPal and email it to you.
If you DO NOT have a PayPal account, PayPal will give
you the option to pay with your credit card.
(I do not ship internationally any longer. shipping in the usa only)



click here to return to my home page