"LITTLE SWEETPEA" KEEPSAKE BOTANICAL GARDEN ANGEL
a little piece of art to be treasured for a forever!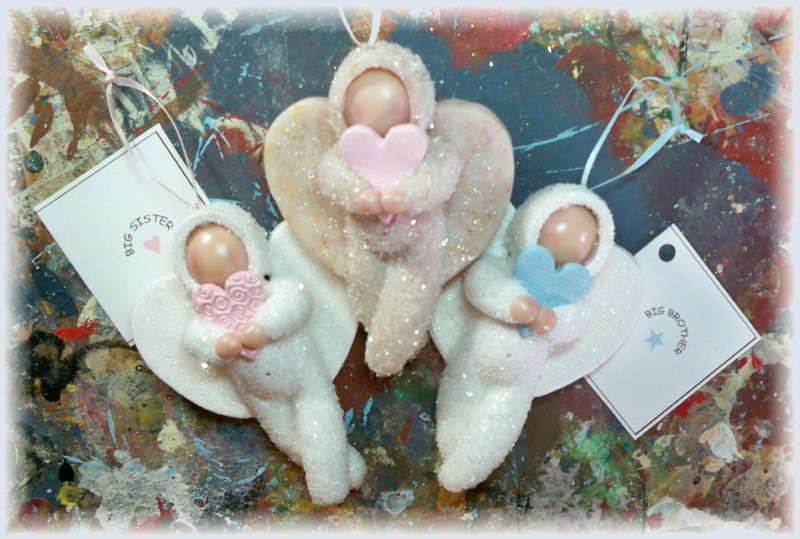 Every part of the each "Little Sweetpea" Angel is hand formed and is
holding a handcrafted heart in it's hands. After they are cured, I sprinkled
the bunting with "diamond dust" to make it twinkle like stars! I prefer
diamond dust over glitter because it keeps its sparkle forever and
glitter loses its shine and turns yellow after time.




Dried flowers will be embedded in the clay to commemorate any special occasion or
it will make a very thoughtful memorial keepsake. I can use YOUR fresh flowers
or flowers you have saved for years). Otherwise I will purchase flowers from a
local floral shop and dry them for your keepsake.

The "hallmark" of my creations are each one is created with lots of love and is my original design.
Every one is individually handcrafted. No molds are used ... totally hand sculpted. Because I hand sculpt and
hand decorate each Little Sweetpea, they are a one of a kind. No two will be alike.




If you would like to give this as a bridal shower, wedding or anniversary gift you can purchase
a gift certificate so it can be made with the flowers from their special occasion.

These "Little Sweetpea" Angel Keepsake Ornaments will be cherished by the one who receives it.

Whether it is to commemorate a happy time or a sad time, people love to have a tangible lasting memory
and what better way than a to receive a handcrafted, Keepsake created and personalized just for them?

My Angels are based on the Hebrew Scripture:
FOR GOD WILL GIVE HIS ANGELS CHARGE CONCERNING YOU,
TO GUARD YOU IN ALL YOUR WAYS.
Psalm 91:11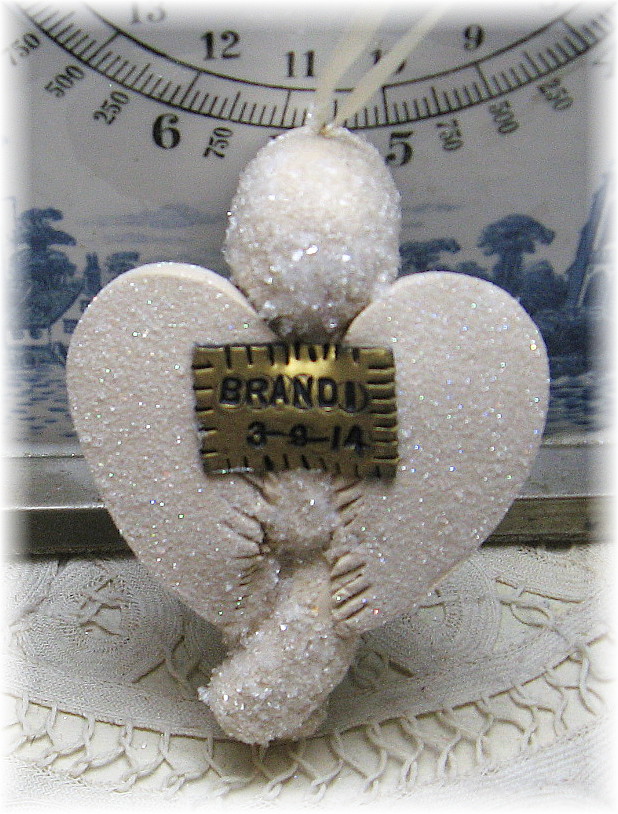 Personalized with a hand stamped
name and year on the backside of.




Each Keepsake starts out as a lump of clay and then is
hand sculpted into a beautiful "Little Sweetpea" Angel Ornament.

personalized, handmade gifts from baby shower to
bereavement and all of life in-between!
*** not available in a shop near you ***

$39.99 each
$4.00 shipping in the USA

Each Keepsake is shipped in a gift box
along with the handmade gift tag of your choice.


{pick the gift tag of your choice from the "gift tag" web page}


click here to return to my home page